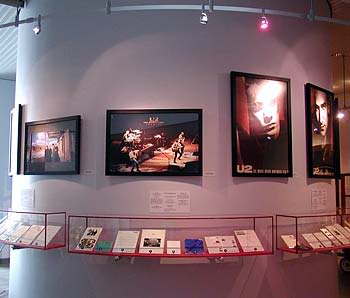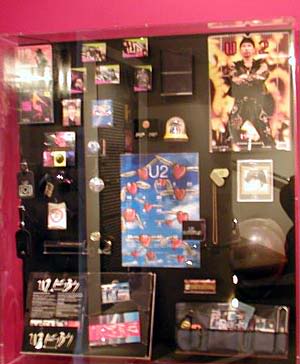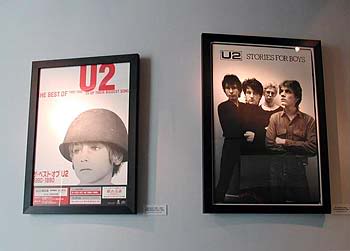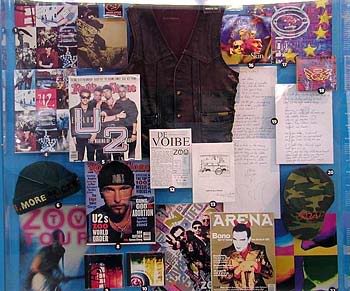 In the Name of Love
In the Name of Love: Two Decades of U2
February 8, 2003 – March 1, 2004
In the two decades after the release of their first album, Boy, U2 established itself as one of the most adventurous and groundbreaking bands in the history of rock and roll. U2 evolved from a virtually unknown, punk-influenced group of young Dubliners into a band that sells millions of albums and fills sports stadiums around the world. They achieved the rare feat of being both critically acclaimed and commercially successful. They have always followed their own muse, never bowing to trends or popular tastes. Their membership has remained consistent from the start. Their legions of fans are passionate, and so is their music.
In the Name of Love: Two Decades of U2 examined U2's journey to the top, beginning with the group's formation at a Dublin high school in the late Seventies. The opening section of the exhibit included such rare artifacts as the first U2 T-shirt (made in a school art class), a bio of the Hype (one of the band's early names), rejection letters from two record companies, a trophy from a 1978 battle of the bands, lead singer Bono's first guitar, and numerous posters and flyers from early club shows in and around Dublin.
While U2 was revered by critics virtually from the start, it wasn't until their third album, 1983's War, that they began to make commercial inroads. That album went to Number One in Britain and earned a gold record in America. War and U2's next studio recording, The Unforgettable Fire, also cemented U2's reputation as a politically conscious band, with such songs as "Sunday Bloody Sunday," about the strife in Northern Ireland, and "Pride (In the Name of Love)," about Martin Luther King, Jr. Among the artifacts related to this period were various tour itineraries and tour programs, Larry Mullen's drum set and Bono's "War" T-shirt.
With 1987's The Joshua Tree, U2 entered the pop stratosphere. Two songs from the album, "With or Without You" and "I Still Haven't Found What I'm Looking For," reached Number One. The group won Grammys for Album of the Year and Best Rock Performance. The group's follow-up album, Achtung Baby, was another commercial success; it reached Number One and included the hits "One," "Mysterious Ways," "Even Better than the Real Thing" and "Who's Gonna Ride Your Wild Horses." With their 1992 Zoo TV Tour, U2 unleashed an extravagant stage show, during which Bono adopted a series of personas, such as the leather-clad Fly and the demonic MacPhisto. In the Name of Love: Two Decades of U2 included costumes from the Zoo TV Tour, as well as from subsequent tours, like 1997's PopMart Tour. In total, the exhibit included nearly 20 full outfits, plus jackets, shirts, hats and other clothing. Other artifacts included schematics and drawings of various stage sets and an architectural model of the Pop Mart set. In addition to these materials, In the Name of Love: Two Decades of U2 included production notes from Brian Eno and Daniel Lanois, producers who have worked with U2 for more than a decade; original lyrics from Bono; a draft of "The Ground Beneath Her Feet," written by author Salman Rushdie; animation cels from the "Hold Me, Thrill Me, Kiss Me, Kill Me" video; numerous promotional items from throughout U2's career and other pieces of correspondence, notes, etc.