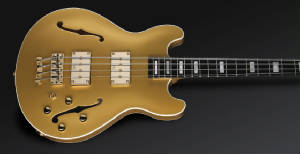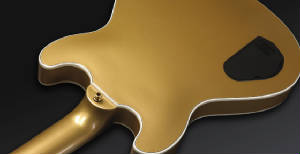 Sometimes it doesn't have to be active: the passive single coil pickups specially designed by MEC fo

There was even more gold for the Warwick Star Bass II, when none less than Adam Clayton from the Irish rock band U2 ordered a custom shop version of the semihollow classic. Whether the U2 bassist was inspried by his Gold records when choosing the finish is not known. It is a fact, though, that the Star Bass II is "draped" in an exclusive high polish finish named `Triumph Gold 3-layered ´, which is continued on the headstock. Top, sides and bottom of this Star Bass II are made of flamed maple of AAA quality. The fretboard consists of Tigerstripe Ebony with decorative mother of pearl block inlays.
The Star Bass II is fired up by two passive MEC Star Bass single coil pickups and passive MEC electronics. These single coils have been specially developed for the Star Bass by MEC owner Vlado Hansal. Apart from its extraordinary finish this Star Bass boasts some other special features: a graphite nut, Dunlop 6230 nickel silver frets and Schaller security-locks. Last, but not least: All that glitters is gold after all! The bass's rich golden finish is beautifully completmented by gold hardware.
| | | |
| --- | --- | --- |
| ADAM CLAYTON STAR BASS II | #365 | |
Construction:
Set-neck
Matched Headstock:
Triumph Gold 3-layered High Polish
Machineheads:
Warwick
Nut:
Graphite
Scale Length:
34"
Frets:
Dunlop 6230 nickel silver
Fingerboard Wood:
Tigerstripe Ebony
Fingerboard Inlays:
Mother of Pearl block inlays
Neck Wood:
Flamed Maple
Fingerboard Radius:
20"
Body Wood:
AAA Flamed Maple top with solid sides
Finish:
Triumph Gold 3-layered High Polish
Pickups:
MEC passive Star Bass
Electronics:
MEC passive
Control Knobs:
Standard
Bridge System:
Warwick 2-piece bridge
Strap Locks:
Schaller security locks
Hardware colour:
Gold
Weight:
4,3 kg
Special Features:

Matched headstock Triumph Gold 3-layered High Polish

Graphite nut

Dunlop 6230 nickel silver frets

Tigerstripe Ebony fingerboard

Mother of Pearl block inlays

Triumph Gold 3-layered High Polish

Schaller security locks

Gold hardware

suggested Euro retail price * :
5.829,00 Euro
ID-Code:

090461XX14GPFMT3WW

* = for Germany, Austria, Swiss, UK, CZ, SK, Poland. Specifications and prices may vary
Click here for more info: WARWICK 'ADAM CLAYTON STAR BASS II'

"So there I was, fifteen years old, with a dark brown Ibanez-copy bass guitar and no amp. I had no idea what I was supposed to do with it. Absolutely none. Not a clue. It just sounded good to me." - Adam Clayton