New Gear | news
NEW GEAR | 2014
BASS | GUITARS
Construction:
Bolt-on
Matched Headstock:
No
Machineheads:
Warwick
Nuts:
Just-A-Nut III Brass
Neck Wood:
Maple
Fingerboard Wood:
Rosewood
Fingerboard Inlays:
Dots
LEDs:
No
Fingerboard Radius:
9 1/2"
Scale Length:
34"
Frets:
21
Body Wood:
Swamp Ash
Pickups:
Passive SD SPB-3
Electronics:
MEC passive
Control Knobs:
Standard
Bridge System:
Warwick standard 2 pcs
Strap Locks:
Warwick security Locks
Hardware colour:
Chrome
Weight:
3,4 kg
Finish:
Gold solid HP
Special Features:
Dots inlays
Alternate neck and fingerboard wood
SADOWSKY
SADOWSKY | Will Lee Model | Green Sparkle

2011 / 2012
SADOWSKY | PJ | 2012 | * finish uncertain *
SADOWSKY | WILL LEE | 2012 | Sherwood Green Sparkle
* Sadowsky has provided Adam with (4) new bass guitars (thus far). Two are listed above. Details forthcoming on the other two Sadowsky bass guitars *
NEW GEAR | 2011
AMPLIFIERS | CABINETS
AGUILAR | Tonehammer 500 | amplifier
2011
AGUILAR | Tonehammer 500 | amplifier
AGUILAR | SL 112 | cabinet
BASS | GUITARS
WARWICK | Reverso | 2011 | Candy Apple Red
AGUILAR | SL 112 | cabinet
FENDER | Custom Shop | Adam Clayton Signature Precision | 2011 | Gold Sparkle\
WARWICK | Reverso | Signature model | 2011 | Candy Apple Red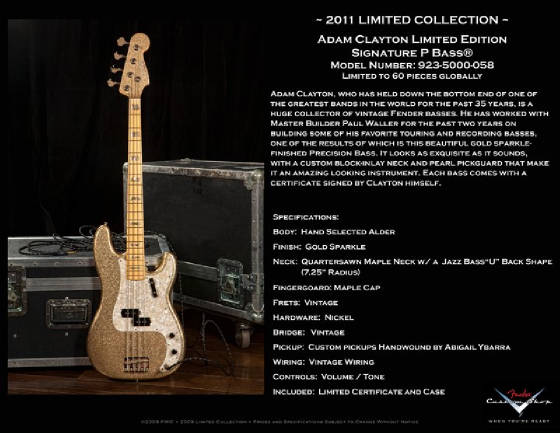 NEW GEAR | 2010
BASS | GUITARS
WARWICK | Reverso | Signature model | 2010 | natural
WARWICK | Reverso | Signature model | 2010 | Triumph Gold 3-layered High Polish
WARWICK | Reverso | Signature model | 2010 | Triumph Gold 3-layered High Polish / Reversed headstock
WARWICK | Star Bass | 2010 | Triumph Gold 3-layered High Polish (2-Pickups)
WARWICK | Star Bass | 2010 | Triumph Gold 3-layered High Polish (1-Pickup)
NEW GEAR | 2009
AMPLIFIERS | CABINETS
AGUILAR | DB 750 | amplifier
AGUILAR | DB 751 | amplifier
AGUILAR | DB 115| cabinet
AGUILAR | DB 410| cabinet
March 2009
After seeing the various awards shows, I noticed that Adam Clayton had some new amps. I was curious so I contacted Aguilar to find out what items of there's Adam was using and sent them off some pictures from the shows. Aguilar's response below:
Hi Jeffrey,
The rig Adam is using in those shots is a DB 750 amplifier with a DB 410 cabinet and a DB 115 cabinet (both cabinets in Classic Black). We appreciate you adding the links. They are as follows:
The heads are kept with his tech off stage for easy adjustment.
Please let me know if there is anything else that we can help you with.
Best Regards,
David Avenius
Chief Executive Officer
Aguilar Amplification
**** Editors note: Adam has changed FROM the db750 TO the db751 model since the time of this original email.
BASS | GUITARS
WARWICK | Buzzard | 200x | black
WARWICK | Streamer Stage I | 2009 | brown - [Used for Electrical Storm during early U2:360 performances - 2009]
WARWICK | Streamer Stage II | 2009 | natural birdseye finish - [heavily customized w/bigger body - 6-string body with 4-string neck) // 200x // birdeye maple[seen during 2009-07-20 Amsterdam U2:360 show; used for "Sunday Bloody Sunday"] - (More information forthcoming).]
WARWICK | Custom Streamer $$ | 2009 | gold glitter sparkle - [w/Seymour Duncan Vintage pickups (Wound personally by Seymour Duncan!) [First seen during U2's appearance at the Nov 5th show at Berlin Brandenberg Gates.] - (Per Warwick: "It is actually a custom Streamer $$, with maple fb wood, black block inlays, maple neck, swamp ash body, custom wired Seymour Duncan pickups, full passive electronics, but with a custom wiring. And a nice special Gold Flake finish.]
WARWICK | Stryker | 200x | black
WARWICK | Reverso | Prototype # 1 | 2010 | natural - [(2) sets of mirror/split pickups] - 3-way electronics w/passive mode. both pickups working.
WARWICK | Reverso | Prototype # 2 | 2010 | natural - [(2) sets of mirror/split pickups] - 3-gold knobs in succession. 1-gold knob near neck. 3-way electronics w/passive treble/bass control.
WARWICK | Reverso | Prototype # 3 | 2010 | natural - [(2) sets of mirror/split pickups] - Passive electronics, only. Volume knob. (2) chickenhead/peghead knobs for changing capacitors. Stacked trebel/bass knob. Only the neck pickup is working.
On U2's recent 3-year U2360° World Tour Adam was backed up by a full complement of Aguilar DB 751 heads and an impressive wall of Aguilar cabinets, bringing Aguilar's sound to over 50 countries. "To have Adam now playing through our Tone Hammer ® 500 is further validation that even though it only weighs four pounds," adds Dale Titus, "the Tone Hammer ® 500 provides a massive sonic experience."
For more information about the Tone Hammer ® 500 and SL 112 cabinets please visit Aguilar's newly designed and updated website, aguilaramp.com
To celebrate 35 years of providing the low-end for the rhythm section for U2, one of the worlds most successful rock bands, the Fender Custom Shop has released this extremely limited Adam Clayton P-Bass. Only 60 pieces have been built, and they're loaded with features to make this one of a kind instrument not only a looker, but a player as well. With its eye-catching gold sparkle finish and matching headstock, and abalone block inlays, loaded with an Abigail Ybarra handwound P-Bass pickup as well as a Certificate of Authenticity signed by Clayton himself, this is a must for any serious P-Bass or U2 collector.

Fender® and Precision Bass® are registered trademarks of Fender Musical Instruments Corporation.


Gold Sparkle Finish with Matching Headstock
Hand Selected Alder Body
Quartersawn Maple Neck
Maple Fretboard
Jazz Bass "U" Neck Shape
Abalone Block Inlays
34" Scale Length
7.25" Fretboard Radius
21 Vintage Style Frets
Custom P-Bass Pickup Handwound by Abby Ybarra
Master Volume and Tone Controls
Vintage Wiring
Vintage-Style Bridge
Vintage-Style Tuners
Nickel Hardware
Includes: Hardshell Case, Strap, Cable, Custom Care Kit, Paperwork, Certificate of Authenticity