BASSICS - 1997 - VOL VII - ISSUE 1
With a reported gross of $49 million dollars for the first half of `97, "PopMart" ranks in as the "King of Pop" tours." If you haven't experienced it for yourself, the tour tops out with a 56' x 170' LED screen (the world's largest), a 100' golden arch which breaks down into 100 transportable sections, a 12' wide stuffed olive on a 100' cocktail stick, and the world's only self-propelled mirror-ball lemon, which stands 40' high (top speed 2 1/2 mph, consumption 1 mpg - unleaded). Not to mention the 75 articulated trucks to carry 500 tons of equipment, 16 buses and a 50-seater 727 to transport the 250 touring personnel, with an additional 200 workers employed locally. Three power generators emit over 4 million watts, enough to run about 1500 homes. The logistics of building the stage every three days means that three stages are required as it takes over 3,000 man hours to build the steel structure. the sound system puts out over a million watts and weighs in at 30 tons, with 149 speaker enclosures housing 298 18" woofers, 428 10" mid-rangers and 604 high-frequency drivers!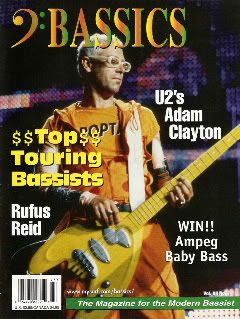 Formed in 1978 by the four Dublin students, U2's record sales are now in excess of 70 million. As for Adam Clayton, he and drummer Larry Mullenhad a hit of their own with "Theme from Mission Impossible". I was unable to contact him personally for this story because they were touring Europe as well as jaunting back and forth to New York for the MTV Awards, but this we know: Adam's preference for basses is generally in the Fender domain (Fender Precisions 1962-1997 and Fender Jazzes 1972-1997), although as you can see from the pictures, he's been sporting a strange beast of late. Exactly what is this golden horseshoe-shaped axe?
After discussing Adam's technical needs, the bass was built in Germany by Auerswald Instruments, a result of the teamwork between Jerry Auerswald and Adam Clayton's bass tech, Stuart Morgan. Based around a Flying V shape, Clayton wanted a "Spacey, Flash Gordon" styled instrument but with improved balance over a Flying V. Crafted from 100+ year-old slab of cherrywood, it's set up similar to a P-J with the split P pickup mounted conversely, i.e. the could under the E and A strings is closest to the bridge.
Auerswald created cherrywood covers for the pickups to blend with the curves of the body, which is finished with an amazing yellow "angel dust" iridescent effect that utilizes metal and mother-of-pearl flakes blended with clear coats to create a multi-dimensional look. Jerry explains it this way: "For me, it was to have a very shiny and freindly yellow, and [close up], it's deep looking." Since the body is painted, you can' see the wood, but you sure can hear it. The curly-maple neck is shaped similar to a Precision but has a short scale of 80 cm (30 1/2 inches), so a lot of tweaking was done to deal with the inherent mids of a short scale. The bridge is an Auerswald patent and is fully adjustable for string height, spacing and intonation. If you like, Auerswald also offers the customer his patented working bottle opener in the headstock! Wouldn't a Dow go good now?
From there, Clayton's signal is switched through a Bradshaw system to Alembic, SWR Interstellar Overdrive, and Ampeg preamps; a DBX 160 compressor; Mutron DBX Subharmonic, Bass Whammy, various overdrives and Boss Chorus Ensemble effects; a B.S.S. crossover; then through C-Audio power amps; and completed with two SWR Goliath Sr. 6 x 10's and two Big Ben 1 x 18 cabs. He also utilizes a Sony wireless and a Demeter D1.
What's next for Adam Clayton and U2, we can only guess. But one thing's for sure - expect the unexpected, and expect them to continue to take things "over the top".
"So there I was, fifteen years old, with a dark brown Ibanez-copy bass guitar and no amp. I had no idea what I was supposed to do with it. Absolutely none. Not a clue. It just sounded good to me." - Adam Clayton