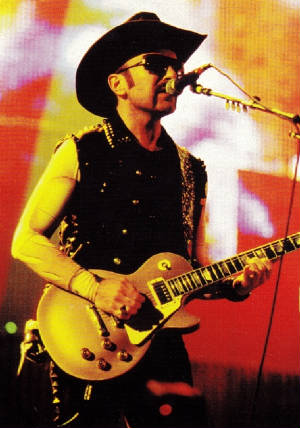 MAKE: GIBSON
MODEL: Les Paul Standard - 30th Anniversary Goldtop
FINISH: Gold top w/ mahogany neck, back and sides
VINTAGE: 1982 or 1983

USE:
Stage: "Last Night On Earth" (Popmart), "Hold Me, Thrill Me, Kiss Me, Kill Me" (Popmart), "Until The End Of The World" (Popmart / Elevation / Vertigo / U2: 360 tours)
Studio: uncertain
Video: Popmart: Live from Mexico City, Elevation: Live from Boston, U2 Go Home: Live From Slane Castle (etc)

NOTES: First seen live during the 1997-1998 Popmart tour. The Edge used this Les Paul 30th Anniversary Goldtop for "Last Night On Earth" and "Hold Me, Thrill Me, Kiss Me, Kiss Me".
30th Anniversary (1982/1983)
The 30th Anniversary Les Paul was issued with a great marketing campaign that included Les Paul himself in the ads.
The 30th Anniversary model is a goldtop with chrome hardware, thin binding in the cutaway, speed knobs, double ring Kluson-style tuners, and the inscription "30th Anniversary" at the 19th fret. The back of the guitar is mahogany, stained light to medium brown, although some 30th anniversary models had gold backs. The model in this photo has a one piece mahogany neck, which was an option; others had 3 piece mahogany necks.
The serial number format of the 30th anniversary model is unique, with a prefix letter "A", "B", or "C", followed by a four digit number. Although there has been much speculation about the significance of the serial number, or whether the different prefixes indicate a separate series, there is no known rationale/pattern to this numbering system. The 30th anniversary model pictured weighs 10 lbs. 4 oz.

According to the 2003 Vintage Guitar Price Guide, Les Paul 30th Anniversary Models in excellent condition are selling for $1,600-$1,800.