Icons of Music - 2008 Auction
June 1, 2008:
Results -
June 1, 2008
EDGE STAGE PLAYED GIBSON EXPLORER
SOLD FOR 150000.00 USD

BEATLES FOUR D.A. MILLINGS SUITS FROM MADAME TUSSAUD
SOLD FOR 120000.00 USD

BOB DYLAN OWNED AND PLAYED GUITAR
SOLD FOR 75000.00 USD

KURT COBAIN STAGE WORN JACKET
SOLD FOR 72500.00 USD

JERRY LEE LEWIS BALDWIN CUSTOM FLAME PIANO
SOLD FOR 70000.00 USD

DAVID GILMOUR OWNED AND PLAYED GUITAR
SOLD FOR 60000.00 USD

EDGE CONCERT USED GIBSON GUITAR
SOLD FOR 50000.00 USD


some of the other U2 items:

ADAM CLAYTON STAGE, VIDEO AND STUDIO PLAYED GUITAR
SOLD FOR 32000.00 USD

EDGE SIGNED LIMITED EDITION MUSIC RISING EPIPHONE
SOLD FOR 31000.00 USD

BONO'S STAGE WORN BULLET LEATHER JACKET FROM THE VERTIGO TOUR
SOLD FOR 30000.00 USD

EDGE WORN U2 RINGS
SOLD FOR 27500.00 USD

EDGE'S STAGE WORN LEATHER JACKET FROM THE 1992 ZOO TV TOUR
SOLD FOR 25000.00 USD

EDGE'STAGE WORN COWBOY SUIT FROM THE 1997 POPMART TOUR
SOLD FOR 12000.00 USD

"MR. THE EDGE" MUSCLEMAN SHIRT
SOLD FOR 11500.00 USD

EDGE STAGE WORN LEATHER CUFF
SOLD FOR 6250.00 USD

BONO WORN HAT
SOLD FOR 5000.00 USD

April 24, 2008
U2's the Edge announced the Icons of Music Sale II to benefit Music Rising to be held on Saturday, May 31, 2008 at Hard Rock Cafe New York in Times Square. This second annual auction event, hosted by Julien's Auctions (http://www.juliensauctions.com/), will offer one of the most significant collections of music memorabilia from many of music's greatest legends with proceeds benefiting Music Rising (http://www.musicrising.org/), a campaign co-founded by U2's the Edge, legendary producer Bob Ezrin and Gibson Guitar Chairman and CEO Henry Juszkiewicz in 2005 to aid musicians of the Gulf Coast Region in regaining their livelihood after the devastation of Hurricanes Katrina and Rita.
Four-time Grammy Award winner Aaron Neville, who has joined the Music Rising campaign and helped bring major attention to some of the charity work being done in New Orleans today, will appear at the Icons of Music Sale II and perform at the evening session. Neville, who with his family, lost everything in the storms of Katrina brings a unique personal experience to Music Rising and will give guests a once-in-a-lifetime opportunity to witness his great musicianship when he brings the spirit of New Orleans to the auction.
The ongoing efforts of Music Rising have, thus far, aided over 2,700 professional musicians and nearly 50,000 students and parishioners. The charity has been the recipient of numerous awards since its inception including the HALO 2005 Award for Cause Marketing, the 2006 Billboard Humanitarian Award and the 2007 PRSA PRISM Award. After the campaign received a Bush-Clinton Katrina Fund grant, former President Bill Clinton personally presented a Music Rising Gibson Les Paul guitar to a recipient in Baton Rouge as a symbol of Music Rising's dedication to the region.
"No one could ever come close to repaying the debt to those who have established this form of music that we all take totally for granted, this hybrid of European melody and African-American rhythm that's given us jazz and R&B and rock 'n' roll," said the Edge. "There's something powerful about musicians giving instruments they own to an auction to aid musicians who are going through a particularly difficult time."
"When the hurricanes first hit we knew we had to do something to help preserve the musical heritage of the Gulf Coast Region," said Henry Juszkiewicz, Chairman and CEO of Gibson Guitar. "We've been honored to work alongside some of the world's greatest musical talents in our efforts to rebuild the Gulf Coast Region and to understand the needs of the people who were devastated by the hurricanes. This auction serves as a reminder of much work that still needs to be done in bringing back one of the world's greatest regions."
Bob Ezrin, legendary producer and one of the co-founders of the organization added, "It is amazing to us that even after all this time there is still so much need for support in the Central Gulf — and so many schools, churches and community organizations are just now coming on line again. Music Rising will be here to provide the instruments and support they need until that need no longer exists, however long it takes."
Amongst the donations from the Edge is his early stage played 1976 Gibson Explorer Guitar. Edge used this guitar in many stage performances since Joshua Tree as well as U2's Music Video for "Beautiful Day" (est. $80,000 and up), his silver adjustable U2 block rings featured on the cover of Atchung Baby (est. $2,000/4,000), a blue Gibson Les Paul electric guitar used by Edge in many studio recordings(est. $20,000/40,000) and his personally worn custom designed Converse shoes (est. $800/1,200) along with an assortment of property donated by his fellow band members to Music Rising.
This fully-illustrated color catalog features nearly 400 lots in the Music Rising's "Icons of Music" Sale on Saturday, May 31st, 2008 taking place at The Hard Rock Cafe Times Square benefiting Music Rising. The 200 page catalog contains all lots in the sale described in detail with full color photographs. This auction features an array of rare items featuring property from U2's The Edge and other band members from this historic group. Property includes Slash concert used Gibson guitar for his first public appearance with "Velvet Revolver" at The Roxy, Jim Morrison handwritten poem, Bob Dylan concert used guitar, Ronnie Wood Handwritten Lyrics, Kurt Cobain Early Guitar with Photographs, Nirvana "Smells Like Teen Spirit" MTV Music Award, Cliff Burton Concert Used bass Guitar from "Metallica", Set of four early collarless suits from The Beatles, Frank Zappa original hand drawn painting, Bob Dylan handwritten lyrics, Green Day custom made prototype Gibson used by Billie Joe, Miles Davis owned and used trumpet, Nine Inch Nails Trent Reznor custom played Gibson, Patti Smith original hand drawn self portrait, Paul McCartney early signed vintage Hofner Bass, Slash's trademark Tophat signed with photo of him wearing the hat in concert, early Pete Townshend The Who concert played guitar, and many more legendary artifacts…
Highlights from this diverse live and online auction will tour The Museo de la Mode in Santiago Chile, Newbridge Silverware Museum in County Kildare, Ireland, prior to the auction on May 31st at the Hard Rock Cafe in Times Square (New York).
IS THE EDGE REALLY AUCTIONING HIS EXPLORER?
Yes and No. He is auctioning An Explorer but not THE Explorer... not his original. The auctioned guitar is actually his number # 3 Explorer. Read on...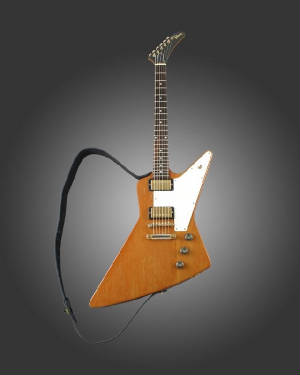 I'd contacted those running the auction and here are the facts of WHICH of The Edge's Explorers is being auctioned:

Dear Jeffrey,

We appreciate the dedication and interest in the U2 community regarding the Edge's items in the upcoming Music Rising Icons of Music II auction.

As fans of U2 know the Edge has a large collection of instruments, including back up instruments. This particular Explorer is his #3 back up. Meaning, the Edge has at least two other of this model of guitar and used those two guitars with greater frequency than this particular guitar. That said here is what the Edge told us of this guitar:

"Dallas found this one in Cincinnati and it became one of the backup instruments for my main 1976 reissue Explorer during the 1987 Joshua Tree world tour and many U2 tours since."

Regarding confusion over the serial number, Gibson serial numbers pre-1977 serial numbers varied greatly. Many strategies were employed before the development of the system employed by Gibson today.

From 1975-1977 some experimental serial numbers were used. Please refer Blue Book of Electric Guitars Sixth Edition Gibson Serialization available in pdf form on the Gibson website. Where you can find the following information on page 4:

"During the period from 1975-1977 Gibson used a transfer that had eight digit numbers, the first two indicate the year, 99=1975, 00=1976 and 06=1977, the following six digits are in the 100000 to 200000 range. MADE IN USA were also included on the transfer and some models had LIMITED EDITION also applied. A few bolt on neck instruments had a date ink stamped on the heel area.

In 1977, Gibson first introduced the serialization method that is in practice today. This updated system utilizes an impressed eight digit numbering scheme that covers both serializing and dating functions. The pattern is as follows:

YDDDYPPP

YY is the production year

DDD is the day of the year

PPP is the plant designation and/or instrument rank."

You can see why many would contend that this guitar's serial number indicates that it was made in the year 2000. The idiosyncrasies of the serial numbers can cause confusion that we hope to have cleared up.

Thank you - and happy bidding!