No Line On The Horizon - Album Info
Independent: No Line On The Horizon - Track by Track
Thursday January 29 2009
The first U2 album since November 2004 received an exclusive first play in Dublin last night.
The Residence private members club on St Stephen's Green in Dublin hosted a playback of the eagerly awaited album.
It has been the longest gap between releases in the band's entire career.
Media and record company personnel gathered to hear 'No Line on the Horizon' in full in the club's luxurious surroundings. The quartet's 12th studio album will be released in Ireland on February 27, a full weekend before its worldwide release.
Sessions for the album were recorded in Fez, Morocco, before moving on to the band's Dublin studio on Hanover Quay, New York's Platinum Sound and Olympic Studios in London.
The album will be available in five different formats, including vinyl, standard CD, a deluxe box set and a special edition with a limited 64-page magazine.
The lead single 'Get On Your Boots' will be available both as a digital download and on physical formats from February 13. The download, CD and 7in vinyl will all be priced at 99 cent, a first for a single release in this country.
The accompanying video for 'Get On Your Boots' will receive its world premiere exclusively here on www.independent.ie tomorrow at 5.00pm.
1 'No Line on the Horizon'
The opening title track kicks off with a crunchy, distorted guitar riff from the Edge.
2 'Magnificent'
Dancey electro flourishes introduce an atmospheric track with moody leanings.
3 'Moment of Surrender'
This particular moment of surrender sees a slowing down of the tempo and some delicate, bluesy guitar playing from the Edge.
4 'Unknown Caller'
More intricate guitar fretwork that builds into a mid-tempo rocker featuring an organ and one of the album's lushest productions.
5 'I'll Go Crazy If I Don't Go Crazy Tonight'
Chiming guitar intro, a rousing Bono falsetto and the lyric, "Every generation has a chance to change the world".
6 'Get On Your Boots'
The belting single that shot straight to the top of the Irish airplay charts here stands as the halfway tune. The video will be premiered tomorrow on www.independent.ie from 4.55pm.
7 'Stand Up Comedy'
Grungy pop with strident drumming from Larry Mullen.
8 'Fez -- Being Born'
On first listen, easily the album's most adventurous and challenging track with ambient synthy hooks.
9 'White as Snow'
A stark, stripped back and striking tune with imploring vocals.
10 'Breathe'
Starts off with a trip-hop beat and cello playing before transforming into an all-out rocker.
11 'Cedars of Lebanon'
A reflective parting glass for album number 12, finishing on the line, "Choose your enemies carefully because they will define you".
The album is now available to pre-order on iTunes.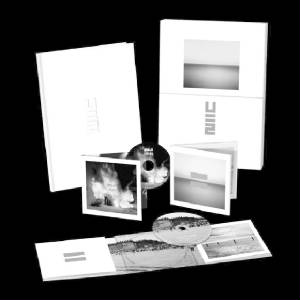 National Post, March 10, 2009
Brad Frenette
Daniel Lanois and U2 have been working together for two decades. Along with Brian Eno, the Canadian-born Lanois has co-produced some of the band's most lauded work, including Joshua Tree and Achtung Baby. For their 12th studio album, No Line on the Horizon, U2 invited Lanois and Eno to contribute as co-writers on several of the tracks.

Brad Frenette spoke to Lanois from his home/studio in Los Angeles for a chat about how he came to be involved on the new album and track-by-track assessment of No Line on the Horizon.


Q: How did you get involved with No Line on the Horizon?

A: We got involved after a phone call from Bono who suggested he wanted to invite Eno and myself to get involved in what he was hoping would become a futuristic spirituals record with a lot of lifeforce in it. In fact, he was not inviting us to produce the record but to compose the album with them. Eno and I accepted the invite and we met -- we had a writing stint prior to going to Morocco. And then we went to Morocco and things went so well. There were talks about who was going to produce the record and I said "well, it's kind of producing itself, so lets just go with the people we have." We did what we always did -- we huddled and had a nice time jamming and bringing ideas to the table. Eno came in with some very fascinating rhythmic beginnings that Larry Mullen jumped right on top of and that became, essentially, the spine of the record.

Q: Were you cautious taking on the project, as it had been in the works prior, including a documented session with Rick Rubin?

A: I don't know exactly what happened with Rick. In fact they did some nice work with Rick on a Green Day project. And if I could read between the lines, and mind you I was not there, perhaps they were looking for fascinating spines to their work and they didn't want to have it be straight up meat and potatoes. They wanted a place for their innovative hats to go to and you never know how you are going to get those interesting beginnings. So we just huddled up, got on with it, and sure enough came up with them.

Q: Ok, well let's start with the album's title track, "No Line on the Horizon."

A: Larry Mullen was -- without anyone else playing -- he was just trying out a few beats on the drums. And Brian Eno sampled him. Brian Eno's station was right next to Larry's -- we have little stations in the studio -- so at any point Brian could record what Larry was doing, and manipulate it and sample it and so on. He did that, and it started out as a little Bo Diddley sample beat. Kind of jazzy, but it had a vibe to it. As soon as Eno sampled that, we jumped right on top of it and started playing over it, including Larry. And we came up with what I think is space age rock and roll -- space age rockabilly. Bono had this idea -- where the sea meets the sky and you can't tell the difference between the two. And the vocal happened very early on, that whole -- a-whoawhoawhoawhoa! -- that little hook. The vocal delivery, the vibe was there right from day one. I was very proud of Bono.

Q: Is that something that might not usually happen with the band?

A: He's great. There'll always be something there. Usually he'll fool you into thinking there is something there.

Q: Ok, let's talk about "Magnificent."

A: That was born in Fez. We wanted to have something euphoric and Bono came up with that little melody. And he loved that melody, and stuck with it. Almost like a fanfare. And then I was involved in the lyrical process on that, because we wanted to talk about sacrifice that one makes for one's medium or one's art. I thought it had for a setting New York in the '50s; looking out a small bedroom window. Maybe a Charlie Parker kind of figure. That's what we started with. We placed ourselves in Charlie Parker's body.

Q: Tell me about another of your co-compositions, "Moment of Surrender."

A: That was an ensemble composition. It had that great Eno/Mullen thing from the get go. A kind of rolling hand drum. And the original sketch had me in charge of the chorus. Bono would point to me: "Ok, Lanois, you sing the chorus" (sings the chorus' hook out loud). It's very much a Canadian sound there, a tribute to The Band. We call it the "Simcoe sound."

Q: How about "Unknown Caller?"

A: Similar to "Moment of Surrender," early days. It had a great vibe to it. The guitar solo at the end was right from the backing track. There was no monkey business, it pretty much had its personality intact from day one. And a pretty great vocal from early, "Unknown Caller" and "Moment of Surrender" -- they were there. Bono honed in on his lyrics but they did not go through any laborious process.

Q: The next track is "I'll Go Crazy If I Don't Go Crazy Tonight."

A: That started out as an Eno contribution. It was called "Diorama."

Q: That's a very Eno-esque title.

A: Yeah. It always had a great vibe to it. In our absence, the U2 lads reworked the song and it became what you are hearing now.

Q: They took it away from Fez and redid it?

A: We have an open license to turn things upside down, keep one part from one, move it to another.

Q: Let's move on to the first single, "Get On Your Boots."

A: Edge came up with that at home. That riff. He had a pretty solid demo of that. Some things were born -- that "Let me in the sound" -- that section came quite late. It was a little chant thing we all loved. Bono was batting lyrics around on that. It always had that great energy. Everyone worked real hard on that. I did my bit with that simple -- it may seem simple -- that little dub "love" -- was compliments Danny Lanois.

Q: That "let me in the sound" bit -- it reoccurs and that theme pops up a few times on the album. Was that idea meaningful to the sessions?

A: It was something Bono was toying with -- that we are children of the sound. Having been at it for as long as he has, he realizes how special the gift is to be moved by music and that we live in the sound. That's what we resonate with and what we are as artisans and artist. A gratefulness and a realization.

Q: Let's talk about another rocker -- "Stand Up Comedy."

A: That song went through a lot of changes -- that song was about six different songs. It's a study in itself -- it would be a cool full length CD -- just the the evolution of (Dance?) Stand Up Comedy.

Q: So it started out differently?

A: It was another song all together. A great song. But in the end it felt crafted -- more craft than soul. And we like to make soul music. So we moved off the earlier versions and settled on that one.

Q: Getting back to Fez, that's the title of this next song: "Fez – Being Born." It's quite lovely.

A: The Edge had a kind of symphonic guitar little moment that was free time. And I always liked the sound of it so I took that and chopped it into a tempo and presented that back to the band. I used one of Eno's beats and I kind of created an arrangement out of what was a free wheel but it always had a great sound. On the strength of that sonic I persisted with that piece. Bono thought that it had this feeling like it was almost something coming to life. Like a flower opening or coming into the world and then into the "Being Born" section. That's the high speed rhythmic part. We had a vibe very early on, so we married those two tracks together after the fact.

Q: As a producer did you hear a natural fit there, or were these two tracks written to be put together eventually?

A: No, I put them in the same key, anticipating that they might live together. I always look for outstanding transitions like that. They can't be taken for granted -- they have to be designed and thought of scientifically. I love that triplet -- it's something I created in my editing process, then the downbeat. Then the main song. I think it's a fantastic transitional moment.

Q: Tell me about another one of your co-compositions, "White As Snow."

A: After my conversation with Bono about future hymns or future spirituals, I did a little studying. In fact, with a friend in Toronto, Lori Anna Reid -- she's a great singer from Toronto and she's quite an expert on spirituals. I asked her to fish a few out for me and we had a listening session and that one stood out to me. It's an old church hymn called "O Come, O Come Emmanuel." It's not identical, but it's inspired by that, an old public domain melody. I laid down a little piano version of that song, again, chopped it to a tempo. Then I came up with a vocal arrangement. Bono had this "white as snow" idea. It just slowly came together.

Q: Was it a challenge to take something old and familiar and give it a new context?

A: Yeah, we've not done much of this. The Edge wrote one called "Van Diemen's Land," which was based on an Irish Classic called "The River is Wide." So I guess it could be thought of that way. We like the idea of referencing a church great and bringing it into the future, It was an experiment.

Q: Ok, next track is "Breathe."

A: That's another one that came from The Edge's corner. He had that pretty intact without our involvement. We worked on a version for a very long time which was great. But in the end they abandoned that and re-performed it. The Edge has got a little setup at home. We worked on everything collectively. Some things got a little more attention with Steve Lillywhite and the band. "Breathe" was one of them, as was "Crazy."

Q: And the album concludes with Cedars of Lebanon.

A: Cedars of Lebanon is something that I took a special interest in. I built that arrangement through my editing process similar to "Fez - Being Born." In the early '80s Eno and I worked with a great artist named Harold Budd. We made an ambient record called The Pearl. I always loved this particular track on The Pearl, so I based the mood of "Cedars" on kind of an excerpt from The Pearl. And then Larry Mullen came in with a killer drum part on that, I was really proud of him. I love the mood on that track; it's really thick with ambience. Almost like a direct throwback to the early '80s, to what I was doing with Eno. I'm proud of it, it's a nice revisit to that work. I didn't think I would ever push the ambient gas pedal any more, but there it is.

Q: What about the collaboration with Eno? Was it just a matter of stepping back into an old rhythm?

A: Part of who we are has never changed. We hook up, and in a matter of minutes we're playing, and somethings happening, and there's a vibe and it's great. So the playfulness in our relationship has never died. Eno is a great catalyst and instigator, I have the patience to investigate the details and arrangements in Brian's absence. He's a great man for giving you an opportunity to look at your work in another manner. That's really his gift to the workplace. He'll come up with something really fascinating.

Q: Larry was on an electric kit for these session, wasn't he?

A: For the beginning, yes. The thing about an acoustic kit is that really wears out the room because it's so loud. People get fatigued by the shock of a non-stop Mullen earthquake. We though let's use the electric kit and see what we come up with. It proved to be a great thing. Some of the things he came up with on that kit; he wouldn't have come up with on an acoustic kit. For example on "No Line on the Horizon" -- that's an electric kit. As it is on "Moment of Surrender." I don't know what he's going to do live.

Q: You spoke earlier about the idea of making "future spirituals." Was there a defined artistic thesis to prove on this album? And do you think you've achieved it?

A: We definitely wanted a fascinating and strange brew. We wanted to revisit the values of Achtung Baby. We wanted to build something that had never been heard before. And I think we succeeded at a few turns in the record and I'm very [proud of the rhythmic complexities. I'll use the foundation of "Moment of Surrender" as an example of something that is quite rare and unusual. In these fast times of reference, it's nice to break some new sonic ground.


© The National Post Company, 2009.
LOS ANGELES, California (CNN) -- Getting an exclusive broadcast interview with all four members of U2 was the easy part. Getting an advance copy of their new CD required a bit more strategizing.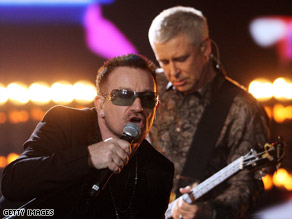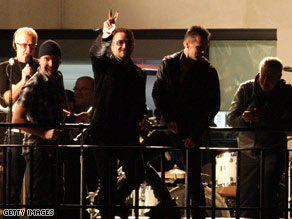 Bono, left, and Adam Clayton perform at a recent awards show. U2 has been together for 30 years.

The band performed a "secret concert" Friday from the rooftop of BBC headquarters in London.
We were scheduled to speak with the Rock and Roll Hall of Famers during the two days they were in Los Angeles for the Grammy Awards, where they'd be opening the show with their new single, "Get on Your Boots." But before that happened, I needed to hear the music.
Lori Earl, the band's longtime publicist, said I would be given one of five dubs of the band's 12th studio album, "No Line on the Horizon." Needless to say, they were concerned about piracy -- especially three weeks ahead of the record's March 3 release date.
I was to tell no one I had the CD. Messengering it to my office wasn't an option, because it might sit unattended in a mailroom or on my desk. Delivering it to my house was also deemed a security risk. We talked briefly about an executive from the record label hand-carrying the CD and passing it off to me at a pre-Grammy event honoring Neil Diamond. Finally, it was decided the safest option was for me to drive out to Pacific Palisades and pick the disc up from someone named Cheryl.
It was raining cats and dogs at 10 p.m. as I drove to the band-designated location. Cheryl brought the package down to my car, grinning broadly. The CD was hand-numbered, and my name was printed on the disc with a Sharpie. There was a note on the plastic case that read, "Do not duplicate, copy, clone, upload or distribute in any manner."
"Put this in your CD player and crank it up," Cheryl instructed. "Listen to it more than once. It's the kind of album that gets better each time you listen to it."

Watch the band talk and play »
I drove home in the pouring rain with the new U2 record blasting from my stereo. The first two tracks were almost danceable. The third cut -- a gorgeous spiritual ballad called "Moment of Surrender" -- was grounded by a throbbing bass line and lasted nearly eight minutes. Track four featured a group shout-along chorus.
The new album signaled an exciting departure for the band. It was much more experimental than their last two offerings -- and I wanted to talk about it with someone. But I couldn't discuss it with anyone. Not my best friend, not my cameraman, not even my mother. By the time I got home, the lyric sheets had been e-mailed to my BlackBerry.
The next day, CNN interviewed Bono and The Edge at the Chateau Marmont -- in one of the old bungalows that all seem haunted. Then we raced down to Staples Center to grab drummer Larry Mullen Jr. after the band rehearsed for the Grammys. We borrowed Neil Diamond's dressing room, joked about the massage table that was set up in the corner, and tried not to eat the box of designer chocolates someone had left him as a gift. We didn't see bassist Adam Clayton until the next day, after U2 had performed on the Grammys.
"After this interview, I'm being whisked away in a limo to the airport," he said.
"To hop on your private plane?" I asked.
"I'm afraid so," he said with a smile.
By the way, the album eventually did leak -- through a supposed record label glitch in Australia. I breathed a huge sigh of relief. Thank God they traced it to someone's desk in Australia, and not to my house in Los Angeles.
Today, U2 begins an unprecedented five-night residency on "Late Night With David Letterman." Tuesday, "No Line on the Horizon" hits store shelves and digital outlets in the United States.
The band members talked to CNN about burnout -- "Horizon" was recorded after a marathon, 129-show tour -- band infighting and a bird incident involving Mullen's drum kit. The following is an edited version of those interviews.
CNN: You guys must have been terribly burned out after your last tour.
Bono: We won't do burned out! (laughs)
Larry Mullen Jr.: There is no such thing in U2 as taking a long break. When we come off the road, it's straight into the studio. And that's just the way we work. You know, we've got no place to go. I wouldn't know what to do with myself if I had time off.
CNN: Well, you did work in some pretty great locations.
Edge: Yeah, we did. We did a lot of recording in Fez [Morocco] on this one, as well as some in New York, and some in London [England] and a little bit in Dublin [Ireland]. I think for our band, something about changing our location gives us a different perspective, and always seems to change the music in a way.
Bono: Fez is beautiful little city. It's the religious capital of Morocco, and they have a religious music festival there -- you know, Sufi singers and Bango drummers from all over the world. I was invited to speak there, and I asked the band -- would they be interested in coming along? And surprisingly, they agreed. We set up in a little hotel -- they call them riads -- and it's a hotel around a courtyard. We set up the band in the courtyard with the square sky over our heads and birds flying in used to come [and] s*** on Larry Mullen's drum kit. He wasn't happy with that.
Mullen: We don't find it easy to make music. We find it a real challenge. It doesn't come easy, and that's why it takes us two years to come out with a record.
CNN: You make it look like it comes naturally, and it's easy.
Mullen: Um, no. I think it's called "show business."
Edge: You've got to almost see it as play, and then, ironically, you get to some very intense stuff.
Adam Clayton: There was some kind of weird magic from the very, very beginning. I think it was because we had been touring a lot, so we could play really well together. But we were really -- I don't know. We were really nice to each other, and that kind of feeling carried through to the end of the recording. And even now, we're getting on great.
CNN: No catfights? No power struggles?
Mullen: Oh, there's lots of them. There's catfights all the time. We spent 30 years arguing, but generally speaking, on a musical level there is consensus. Everything else -- we disagree.
Clayton: A lot of times when we were in that creative environment, the antagonism and the fighting is what produces the pearls. But this was an environment where everybody supported each other, and I think we produced more delicate tones. With this record, it was like we had our self-confidence as a band, and we started to play much more for each other and to each other than in terms of how far we can kick it out of the ballpark.
CNN: Are you pleased with the new album?
Mullen: It's not an easy record, and it's complex. "[Get on Your] Boots" is one of those things where our audience is kind of divided on whether they think it's a good or bad thing. I'm very pleased with it. I think it shakes it up a bit, and we need to do that. We've had two albums -- "All That You Can't Leave Behind" and "How to Dismantle an Atomic Bomb" -- and they were very U2 as U2. This album is a lot more experimental.
CNN: I remember getting a press release last fall that said, "U2 is delaying the release of their new album because they have too much material, and they're on a creative roll and don't want to stop recording." I thought, "Who delays a record because they have too much material?" Usually, it's the other way around.
Bono: If we're going to make an album, it's very important to us that every song on the album is a "10." I think the reason people aren't buying albums is a lot of times they only get one or two good songs. For us, every song had to be extraordinary, and special, and unique, and the whole had to be better than the sum of its parts. You'll have to decide if we achieved that, but that's what we were attempting.
Edge: No album of ours is ever made in a vacuum. There's always a huge amount of what's going on in the culture that informs our work. But when it comes out in the end, it always sounds like U2.
Clayton: We see each other a lot -- just to figure out what music we're listening to, what movies people are seeing, just to know where their heads are at. And if we don't have too much to talk about, we just swap knitting tips.
Bono: Edge lives down the road -- literally -- and our kids go to school together, and we hang out a lot. We always look forward to seeing Larry and Adam, but you know, they guard their privacy more than we do.
CNN: Sounds like you've figured out how to work together and live together.
Bono: Everybody has just enough rope, just enough time, to be an a**hole. You know what I mean? 'Cuz everyone's going to be one at some point. Or maybe that's just me! But, you know, people need space to make mistakes. People have to do their own growing, and we don't all grow at the same time.
CNN: So what I want to know is what are your mistakes?
Bono: Oh, how long do you have?! (laughs)
Edge: I don't think the relationships would work if other than for the music. The interesting thing is we're so different, and that's our strength. We are united in one cause, which is U2, and the work that we do and the music that we make. As long as we're making great music, there will never be any issues with our band. But if we make one bad album, I'd say the fighting, the friction that would cause, would be huge.
Bono: Individual egos, as big as they may appear -- and they may not be as big as they appear -- are certainly subsumed to the band ego. That's the real thing.
Clayton: I think head-butting is something that you do when you're a young man. As you travel down the road together, you stop thinking about what the band can do for you, and you think much more about what you can do for the band. You start to really appreciate what everyone else does, and realize how good they make you look.
Bono: It's very hard to imagine anyone else being in the Beatles. It's very hard to imagine anyone else being in U2. People tell me that if you go to a U2 show, when we walk out on stage, everybody has the hairs going up in the back of their neck. What we don't tell everyone is that happens to us, too. And I don't know why that is. I think it's chemistry.
Mullen
: We were always labeled "big" -- you know, "U2's a big band." And you want to be a
great
band, and I think that's one of the reasons we stick at it. There's still work to be done.
"I was born to sing for you/I didn't have a choice but to lift you up," Bono declares early on this album, in a song called "Magnificent." He does it in an oddly low register, a heated hush just above the shimmer of the Edge's guitar and the iron-horse roll of bassist Adam Clayton and drummer Larry Mullen Jr. Bono is soon up in thin air with those familiar rodeo yells, on his way to the chorus, which ends with him just singing the word "magnificent," repeating it with relish, stretching the syllables.
But he does it not in self-congratulation, more like wonder and respect, as if in middle age, on his band's 11th studio album, he still can't believe his gift — and luck. Bono knows he was born with a good weapon for making the right kind of trouble: the clean gleam and rocket's arc of that voice. "It was one dull morning/I woke the world with bawling," he boasted in "Out of Control," written by Bono on his 18th birthday and issued on U2's Irish debut EP.
He is still singing about singing, all over No Line on the Horizon, U2's first album in nearly five years and their best, in its textural exploration and tenacious melodic grip, since 1991's Achtung Baby. "Shout for joy if you get the chance," Bono commands, in a text-message cadence and drill sergeant's bark, in "Unknown Caller." He leads by example in the ham-with-wry pop of "I'll Go Crazy If I Don't Go Crazy Tonight" — "Listen for me/I'll be shouting/Shouting to the darkness" — then demands his piece of the din in the glam-fuzz shindig "Get on Your Boots": "Let me in the sound!...Meet me in the sound!" God, guilt, love, sin, terrorism and transcendence — Bono juggles them all here, with the usual cracks at his own hubris. ("Stand up to rock stars," he warns in "Stand Up Comedy." "Be careful of small men with big ideas.")
Bono also keeps coming back to the sheer power and pleasure of a long high note and the salvation you can feel in being heard. "I'm running down the road like loose electricity," he jabbers, with some of that nasal acid of the '66 Bob Dylan, through the hard-rock clatter of "Breathe," "while the band in my head plays a striptease."
It is a strange thing to sing on a record that more often reveals itself in tempered gestures, at a measured pace. (The main exception, the outright frivolity of "Get on Your Boots," comes right in the middle, as if the band thought it needed some kind of zany halftime.) Most of the great — and biggest-selling — U2 albums have been confrontational successes: the dramatic entrance on 1980's Boy; the spiritual-pilgrim reach of 1987's The Joshua Tree; the electro-Weimar whirl of Achtung Baby; the return to basics on 2004's How to Dismantle an Atomic Bomb. Produced by the now-standard trio of Brian Eno, Daniel Lanois and Steve Lillywhite, No Line on the Horizon is closer to the transitional risks — the Irish-gothic spell of 1984's The Unforgettable Fire, the techno-rock jet lag of 1993's Zooropa — but with a consistent persuasion in the guitar hooks, rhythms and vocal lines.
In "No Line on the Horizon," it is the combination of garage-organ drone, fat guitar distortion and Mullen's parade-ground drumming, the last so sharp and hard all the way through that it's difficult to tell how much is him and how much is looping (that is a compliment). The Edge takes one of his few extended guitar solos at the end of "Unknown Caller," a straightforward, elegiac break with a worn, notched edge to his treble tone. "White as Snow" is mostly alpine quiet — guitar, keyboard, Bono and harmonies, like the Doors' "The Crystal Ship" crossed with an Appalachian ballad. "Cedars of Lebanon" ends the album much as "The Wanderer" did on Zooropa, a triumph of bare minimums (this time it's Bono going in circles, through wreckage, instead of Johnny Cash, who sang "The Wanderer") with limpid guitar and electronics suggesting a Jimi Hendrix love song, had he lived into the digital age.
"Fez — Being Born" is the least linear song on this album (no small achievement), a highway ride in flashback images dotted with Bono's wordless yelps and the descending ring of the Edge's guitar. The last lines actually tell you plenty about U2's songwriting priorities: "Head first, then foot/Then heart sets sail." The big irony: Their singer is one of the most insecure frontmen in the business. Bono knows exactly what a lot of you think of his social activism and flamboyant freelance diplomacy. But the flip side of that bravado, in "I'll Go Crazy..." — "The right to appear ridiculous is something I hold dear" — is a running doubt in Bono's lyrics, that he always goes too far ("Stand Up Comedy") and will never be as good as his ideals. The rising-falling effect of the harmony voices around Bono in the long space-walk "Moment of Surrender" is a perfect picture of where he really wants to be, when he gets to the line about "vision over visibility."
And he's sure he'll never get there on his own. "We are people borne of sound/The songs are in our eyes/Gonna wear them like a crown," Bono crows, next to the Edge's fevered-staccato guitar, near the end of "Breathe" — a grateful description of what it's like to be in a great rock & roll band, specifically this one. Bono knows he was born with a voice. He also knows that without Mullen, Clayton and the Edge, he'd be just another big mouth.
The new U2 album track-by-track
MusicRadar, February 19, 2009
By Rob Laing
U2 are 33 years old now, and have spent more than half of that time as the biggest band in the world.

But you'd have to look back as far as 1991's reinvention on Achtung Baby for their last truly classic album.

So the return of that record's production dream team of Brian Eno and Daniel Lanois (they also have co-writing credits on over half the songs here) with globe-spanning sessions in Africa leave for heavy expectation and intrigue, even by Bono-sized standards.

Bono himself hasn't helped matters by declaring that if this album "isn't our best, we're irrelevant." That may come back to bite him but after two albums reclaiming their signature stadium-friendly sound from the young pretenders snapping at their heels.

So, is No Line on the Horizon the crowning pay-off we've been waiting for?

Here's MusicRadar's thoughts on hearing the album.

1. No Line on the Horizon

If this is going to be an experimental affair, there's little sign of it here on this very direct rock song. Some of you may already have heard a leaked version of this title track, but the album take is slower to build into the groove. It's a promising enough start, a rocker reminiscent of '90s U2 (1997's Pop needed more songs of this calibre, that's for sure) with Bono sounding surprisingly youthful in his higher register with some trademark "Oohs."

The Edge keeps it simple with a memorable lead guitar line on the chorus, while Adam Clayton lays down a heavy groove. The Eno/Lanois touch is already in evidence with subtle ambience that works with the song rather than sounding conspicuous.

2. Magnificent

We were waiting for this track -- rumour says it is indeed magnificent. After some brief Eno ambience (many of the tracks kick in this way) it arrives in style. Yes, it's that trademark Edge crystal chiming delay and it still sounds thrilling after all these years.

As soon as Edge's riff kicks in it's obvious this is going to be an anthem for stadiums. Bono is in his element on the chorus singing, "Only love can leave such a mark." There's a majestic, driving feel to this song that gives it a sublime flow with Eno and Lanois' sonic trickery swirling around the band.

The Edge's solo is less-is-more, so no surprises there, but fans will notice the build into the chorus seems to be lifted from "Pride (In the Name of Love)." Even on first listen this is an addictive U2 song. "New Year's Day" meets "Zooropa"? Perhaps...

3. Moment of Surrender

Every U2 album has its epic ballad. Clocking in at 7:20 the vision for "Moment of Surrender" is clearly on the scale of "One" and "Still Haven't Found What I'm Looking For." Yet it falls short of even a "Kite" or "Sometimes You Can't Make It On Your Own." It's a tale of spiritual awakening at an ATM machine (this is Bono after all), and takes time to build into a bass-driven mantra with added organ before moving into a chorus with a distinct gospel feel. But despite an impressive vocal performance from Bono it never takes off because melodically it's just not that special.

Nevertheless, Edge fans will enjoy his brief but dramatic Gilmour-esque slide solo. He's clearly still very much a player of taste, despite not showing any sides of breaking out of his stylistic box.

4. Unknown Caller

The Eno/Lanois touch again pays dividends here on this mid-paced song, adding textures that are very natural amongst the sound four-piece band's sound. It starts with birdsong and a burst of African instrumentation but a simple and effective delayed riff from Edge and some "Oohs" from Bono bring us back to the familiar. Nevertheless the chanting Apple OX-savvy chorus with Edge on backup ("Force quit and move to trash") is jarring to give a futuristic feel and Eno's synth break lifts the drama up another notch to lead into a surprisingly long solo from the Edge that closes the song in true guitar hero style.

5. I'll Go Crazy, If I Don't Go Crazy Tonight

It's time to smell the glove. Although even Spinal Tap would probably reject this song title. No Eno or Lanois on writing or production credits here, the band are left to their own devices with old friend Steve Lillywhite manning the desk. The sound is more of a live dynamic as a result and this is an optimistic pop rocker sure to go down well in the stadiums. It's upbeat, everyman U2 but with enough dynamics to engage -- despite Bono weighing in with some intensive lyrical sloganeering:

"Every beauty needs to go out with an idiot" -- plus -- "The right to be ridiculous is something I hold dear" -- AND -- "There's a part of me in the chaos that's quiet." He really should consider putting some of these on bumper stickers.

6. Get On Your Boots

No hope on the horizon for this one. The single seems to be dividing opinion and it's easily the weakest song on the album. Bono's stream of consciousness is more substandard than "Subterranean Homesick Blues," sounding a little too close to grandpa at the discotheque.

It just doesn't suit U2 but tellingly, the song it most recalls -- especially on the bridge -- is "Fast Cars." That was a superior song but one only deemed worthy as a bonus track on 2004's How to Dismantle an Atomic Bomb.

7. Stand-Up Comedy

Another fun-loving rocker like the one before but this is distinctly '70s-inspired. The Edge has said his meeting with Jimmy Page for the It Might Get Loud film sparked his work on this song. The Zeppelin-flavoured riff is a highlight, but a forgettable chorus doesn't raise the song as a whole to the same standard.

A reportedly epic gestation period in the studios before completion doesn't show -- it sounds almost too throwaway for all its funk and bluster, especially compared with the songs that follow.

8. Fez - Being Born

This is an interesting one -- with Eno's paws all over it. Unsurprisingly for its title the influence of recording in Morocco (in an old Riad hotel) and very much apparent in the ambience of the first part before an abrupt end to break into "Being Born"'s powerful Clayton-heavy groove.

This is the sound of a freewheeling U2, seemingly spurred on by the ever-experimental Eno. Indeed, the former Roxy Music man sounds like he's very much in the band on this. The melodies are unpredictable and the melding with electronics is almost the fruition of what they might have been aiming for in the Zooropa era. "A speeding head / a speeding heart" sings Bono, while guitars chime and fuzz and effects surge the music forwards.

Why don't they let go like this more often?

9. White As Snow

This may just be the standout song on the whole album -- but it's a very different U2 to what you might expect. "White As Snow"'s musical arrangement is based loosely on an ancient hymn; "O Come, O Come, Emmanuel." The hymn has been covered by Enya and Belle And Sebastian amongst others, but Bono's lyrical inspiration is from the perspective of a soldier's mind in his dying moments.

The lyrics are far more ambiguous than that may imply ("As boys we would go hunting in the woods / To sleep the night shooting out the stars / Now the wolves are every passing stranger..") while his vocal performance is the kind of confessional, stripped-down Bono we rarely hear.

Edge's odd-tempo and picked electric and acoustic guitars add to the powerful mood-led by the vocal with a cinematic build before coming back down. It really shows how much this veteran band can still surprise and impress in equal measure.

10. Breathe

Eno claims this is "the most U2" song the band have ever recorded. He should know. Larry Mullen Jr. gets a drum intro before the Edge jumps in with satisfying overdrive crunch. Bono's stream of consciousness vocal approach work much better here than on "Get On Your Boots" but "Breathe"'s chorus is big and unashamedly aimed at an enormodome crowd.

"Everyday I have to find the courage to walk out into the street with arms out / got a love you can't defeat."

U2's everyman-rock is the stick the critics often use to beat them with but although many other bands try, few can inject this kind of spirit and passion into stadium rock.

11. Cedars of Lebanon

Like "Love Is Blindness" -- the closing track on Achtung Baby -- U2 choose to close proceedings with a slice of darkness. This time it's almost a "film noire" atmosphere created with arpeggiated guitars and an incessant, but fitting drum part. It's subtly discordant and finds Bono in the third person again, now from the perspective of a jaded war reporter in, of course, Lebanon:

"Spent the night trying to meet a deadline / squeezing complicated lives into a simple headline." We know how he feels but there's something refreshingly atypical and poignant about the sound of the band here compared to the more commercial songs they're best known for.

OUR VERDICT?

Go easy on yourself, Bono. It would have been a very tall order for this to be U2's greatest album but it frequently showcases a band who are very far from becoming irrelevant.

A number of No Line On The Horizon songs make for a deeper, darker listen than 2004's How to Dismantle an Atomic Bomb while the album's two weakest moments are arguably the most throwaway and pop-driven -- "Get On Your Boots" and "Stand-Up Comedy."

What's most interesting is how well the partnership with Eno and Lanois sounds here on their songs. The strongest songs are those where the influence is tangible, when before the band's experiments with electronic sounds on Pop and Zooropa Eno were sometimes forced and awkward.

The most intriguing moments here are where the Eno and Lanois team seem to be leading the band into new areas with their input as both musicians and producers, while U2's signature elements sound revitalised by added new soundscapes that fit into the sound to create state of the art pop.

Ultimately, No Line on the Horizon is an impressive combination of the traditional and the future.


© Future Publishing Limited, 2009.
Keep On Moroccan in the Free World
Hot Press, February 14, 2009 / Stuart Clark
U2
No Line on the Horizon
****

It's a testament to the band's staying power that a U2 album is still a global news event - as opposed to, say a Rolling Stones record, which everybody knows is just an excuse to got out on another Greatest Hits tour.

As Bono told Hot Press a couple of years ago, it's the young guns like Franz Ferdinand and The Killers (not to mention Kings of Leon and Fleet Foxes) that they're competing with, rather than dadrockers whose best work is a good 20 or 30 years behind them. Which isn't to suggest that they've fallen into the trap of being middle-aged family men trying - and failing horribly - to sound like they're down with the kids. Far from it.

No Line On The Horizon is a mature, tender, reflective record of great musical variety, depth and beauty that could only have been made by four people who've experienced just about everything that life can throw at you.

Anyone judging the album by 'Get On Your Boots', a big funky beast of a song, with Bono hitting notes that a 48-year-old has no right to, will have forgotten how U2 like to tease with their lead singles. The collection's only other ball-busting, out and out rocker is the title-track, which lives up to the 'Buzzcocks meets Bow Wow Wow' billing it's been given by its author, who mizes metaphysics with mischief-making as he recounts: 'She said, 'Time is irrelevant, it's not linear/Then she put her tongue in my ear'.

If that line's playfully throwaway, on the rest of No Line On The Horizon Bono is as lyrically dexterous as he's ever been.

'From the womb my first cry, it was a joyful noise ... only love, only love can leave such a mark', he proclaims on the aptly-titled 'Magnificent', an eclectic mix - inspired by Johann Sebastian Bach's The Magnificat, no less - of mournful Roy Orbison guitar, Killers-style synth stabs (this musical magpie lark works both ways, Brandon!) and anthemic flourishes which recall the likes of 'New Year's Day' and 'Pride'.

You're still digesting all of that when up pops 'Moment of Surrender', a gospel-flavoured seven-minute epic that rides in on an orchestral wave, and includes such evocative cinematic couplets as: 'I was speeding on the subway/Through the stations of the cross/Every eye looking every other way/Counting down 'til the pain would stop'. If U2 were trying to conjure the same spiritual vibe as Marvin Gaye's 'Abraham, Martin, John' they've succeeded. 'Moment Of Surrender' is a big, sweeping track in the vein of 'With Or Without You' that's certain to become a U2 classic.

The first reminder that Fez, in Morocco, was the birthplace for much of the album - and that Brian Eno was among the midwives - is provided by the birdsong and looped Arab percussion at the beginning of 'Unknown Caller', which also finds Bono giving his falsetto another impressive work out.

Things get even more experimental on 'Fez - Being Born', a wonderfully intriguing song of two halves that starts with disembodied voices, FM static and other ambient weirdness before giving way to Edge's trademark chiming guitar. Unconventional, but it works.

Listeners looking for autobiographical insight, meanwhile, should proceed immediately to the Will.i.am and string section-assisted 'I'll Go Crazy If I Don't Go Crazy Tonight', a real grower which features such revelatory lines as 'There's a part of me in the chaos that's quiet/And there's a part of you that wants me to riot'.

You also get the strong suspicion that Bono's talking about himself on 'Stand Up Comedy', another dirty white funk workout on which he declares: 'I can stand up for hope, faith, love/Josephine, be careful of small men with big ideas/Stand up to rock stars, Napoleon is in high heels'. Find me a Chris Martin line that self-deprecating and I'll buy you a pint.

U2 revisit Rattle And Hum 'Van Diemen's Land' with the sparse 'White As Snow', a track written for Jim Sheridan's Afghanistan war movie Brothers. Both lyrically and musically it trays into the same territory as Springsteen's The Ghost Of Tom Joad, with an extra twist of Leonard Cohen for good measure.

Eno has decided that the penultimate track, 'Breathe', is 'the best U2 song ever'. While that assessment is perhaps a little over the top, the Beatles-esque track is a genuine standout with Bono evoking the spirit of St John Devine and unnamed ju-ju men, as a hyperactive cello and Larry's tom-toms fight it out in the background.

If ever there was a song for the times, it's the closing 'Cedars of Lebanon', a beautiful half-spoken ballad in which Bono narrates from the point of view of a weary war correspondent - the thing is that you just know that there's a lot of the U2 frontman in there too.

'Choose your enemies carefully 'cos they will define you/Make them interesting 'cos in some ways they will mind you/They're not there in the beginning but when your story ends/Gonna last with you longer than your friends', he pronounces, before the song does the musical equivalent of The Sopranos' last scene and comes to an abrupt halt, ending the record on a suitably low key and yet indisputably high note.

32 years in, and the buggers are still worth every column inch that No Line On The Horizon's going to garner them. To say that U2 fans will love it is a gross understatement. NLOTH is a very powerful record indeed.

(c) Hot Press, 2009.
Track by track: how the new U2 album rates
Sydney Morning Herald, February 02, 2009
Bernard Zuel
I've had one listen to the new U2 album No Line On The Horizon.

It sounds adventurous and there are bits of very old U2 and bits of not so old U2, in league with sounds more common in Brooklyn at the moment than Dublin.

You can easily hear the influence of producers Brian Eno and Daniel Lanois. Definitely an improvement on How To Dismantle An Atomic Bomb. Here is a hurried first response and don't hold me to the lyrical references.

Track one: No Line On The Horizon

Buzzy guitars and offkilter Enoesque noises vie for attention while Bono strains for effect as he reflects both the tension and the intensity of the song. The chorus (not a big one; more a devolving of the verse) retains the tension but puts it in a gentler setting. Bono seems to be singing to, or about, a girl, not for the last time on the album, but it's not easy to decipher.

Track two: Magnificent

More of those odd sounds behind treated guitars and synthesisers and the song opens in two or would now be called "classic U2", the familiar 80s quick marching rhythm and the Edge's exploratory guitar lines. The most traditional sounding song on the album has Bono declaring that "I was born to sing for you/I didn't have a choice" before confessing that "only love can leave such a mark".

Track three: Moment Of Surrender

A moodier track with irregular hand percussion (or a loop, or both) picking away at the edges of a bed of synthesisers and violin. The emotional tone is late '80s U2; the musical palette, with hints of electronica, is more early '90s. Before those richly layered Eno/Lanois-signature backing vocals arrived late in the piece Bono goes from enigmatic: "I tied myself with wire to let the horses run free/playing with fire till the fire plays with me" (I think) to matters closer to the heart: "it's not if I believe in love but if love believes in me".

Track four: Unknown Caller

Some really interesting ambient sounds in a late, late night setting more concerned with atmosphere than asserting itself. It's 3.33am "in a place of no consequence or company" and he's "speed dialling with no signal at all". The lyrics seem more impressionistic, disconnected and with a touch of David Bowie in the chanting underneath. And is that French horns at the end? Not usually heard on a U2 album.

Track five: I'll Go Crazy If I Don't Go Crazy Tonight

Mixed marriages don't always work, but should, seems to be the theme. "She's a rainbow and she likes the quite life/I'll go crazy if I don't go crazy tonight." This is a straight out pop song with reverb guitars and Bono in high croon. It's also a U2 track they could do in their sleep, but no less attractive for that. The question is will it last as long as some of the others?

Track six: Get On Your Boots

The first single and perplexing some already. A mess of dirty guitars and urgent energy play through electronic bibs and bobs. You can hear Fly-era U2, with a little less edge, but here something niggling through earlier songs becomes clearer: they have been listening to Brooklyn's art rockers TV On For Radio. It makes some sense: TV On The Radio spent their youth listening to Eno and Bowie too.

Track seven: Stand Up Comedy

A strutting 70s guitar finds the Edge channelling his inner Marc Bolan while that Brooklyn fractured dance of rock feels returns (and then becomes almost pure Madchester ecstasy nightclub). The "song" runs out a little earlier than the groove does but it doesn't seem fatal at all.

Track eight: FEZ - Being Born

This seems to be two songs hooked together, one a collection of odd sounds and shapes, the other a pulsing rock number which becomes something else again when the sonic oddness returns prior to a drifting away ending.

Track nine: White As Snow

A ballad not just inspired by but evoking wide spaces and open skies. There are low rumbles and darting sounds, brass even. Could this be U2 aiming for Bruce Springsteen in his solo tales-of-the-desert mode?

Track 10: Breathe

This is pushier at immediately, coming with a bit of attitude. Did Bono really just say he is "not somebody's cockatoo"? He definitely says "I'm running down the road like loose electricity while the band in my head plays a striptease" and it's an apt description of this land of atmosphere and aggression.

Track 11: Cedars Of Lebanon

Lyrically and musically strongly reminiscent of a film noir narration (Bono as Walter Neff? Why not?), the central character is a man cut off from affection and life in general. Some really interesting harmonies - Eno at work again - and a closing set of lines worth pondering for implications. "Choose your enemies well for they will define you ... they are going to last with you longer than your friends".

(c) Sydney Morning Herald, 2009.
U2 back on track with new album
Live News, February 02, 2009
U2 are back.

Four years after their last album, How to Dismantle An Atomic Bomb, the Irish supergroup return with No Line On The Horizon, which will be released on February 28.

Musically, they're back with their most experimental, exciting work in a decade.

The first single, Get On Your Boots, had a mixed reception when it was released last month. But now the first reviews of the album have started to trickle in from around the world, and they're glowing.

The News of the World called No Line On The Horizon a cracking return to form, while The Glasgow Sunday Mail said it was U2's most complete album, ranking it with their classics Achtung Baby and The Joshua Tree.

On Monday, media in Sydney gathered to hear all 11 songs on No Line on the Horizon, after surrendering mobile phones and recording devices.

The album opens with the title track, a raw groove that echoes The Edge's guitar playing on The Fly.

Magnificent lives up to its name, and is sure to be an instant U2 anthem, as Bono sings: "I was born to sing for you, I didn't have a choice."

The singer calls Moment Of Surrender the best song the band has ever written, and at seven minutes long it's an epic.

It's also one of a number of songs in which The Edge's guitar playing shines.

On Stand Up Comedy, U2 get their swagger on with some big Led Zepplin-esque riffs, and there's a little Middle Eastern flavour on a couple of the tracks.

The band's longtime producing team of Brian Eno and Danny Lanois are back on board and Eno's influence can be heard particularly on FEZ - Being Born.

It's their most adventurous moment, and it's impossible to get its measure on one listen.

U2 strip it back on the striking White As Snow, while Cedars Of Lebanon is a reflective closer told from the perspective of a war correspondent.

The same old U2 themes of love, forgiveness, joy and beauty are evident on their 12th studio record, but the sentiments are less obvious and cheesy than they have been on recent albums.

The band hasn't delivered a straight forward rock album, but the boys haven't forgotten what they're good at.

(c) Live News, 2009
Ireland leads the way with new U2 album
26 Jan 2009
U2's new single 'Get On Your Boots' has shot straight to No.1 in the Irish airplay charts.
The single – the first from the band's hugely anticipated No Line On The Horizon album – has already been greeted with widespread critical acclaim, significantly raising expectations for what is destined to be one of the year's big records. Originally titled 'Sexy Boots' the track is a thoroughly contemporary, intense electro grunge exercise, with Adam Clayton's powerful bass to the fore, which mixes hip hop influences with shades of the Rolling Stones, Bob Dylan and The Beatles.
"We came up with 'Sexy Boots', and everyone got very excited by the idea and we pursued it, but in the end we just thought it was a bit limiting, and so we took it in another direction. That's the way it often happens with U2," Edge told Hot Press. Edge also waxed lyrical about the video for the single, made by French director Alex Courtes, who was also responsible for the video for 'City Of Blinding Lights'. "It's based around the idea that men have fucked things up so badly, politically, economically and socially that it's really time we handed things over to women. We had our doubts when we saw a rough cut – but the finished video is brilliant. He's really nailed it."
Officially due for release as a digital download on February 15, the track was made available on iTunes on the same day as Dave Fanning gave it its worldwide premiere on the Colm and Jim Jim Show on 2fm.
"'Get On Your Boots' is a great opening salvo from what is a brilliant album," Hot Press editor Niall Stokes commented. "No Line On The Horizon is a huge record, full of big songs, powerful riffs and superb musicianship. It's more musically diverse that any U2 album since Rattle And Hum, mixing hard rock, psychedelia, pop, electronica, dance, folk, country, spiritual music and orchestral shadings in what is a fantastically heady brew. It will certainly challenge U2 fans, but my guess is that they'll ultimately be inspired. It's going to be a massive record. I can't wait to hear the songs live."
The single has also won the approval of radio in the UK, where it is currently at No.6 on the airplay charts. No Line On The Horizon is released on February 27 in Ireland and March 3 in the US
U2: NO LINE ON THE HORIZON
Release Date: March 2/3 2009
First Single + Album Tracklisting:
Get On Your Boots, the first single from U2's new album No Line On The Horizon, will be released as a digital download on February 15th with a physical format to follow on February 16 through Mercury/Universal.

Produced by Brian Eno, Danny Lanois and Steve Lillywhite, sessions for No Line On The Horizon began in Fez, Morocco, and continued at the band's Dublin studio, New York's Platinum Sound Recording Studios, and London's Olympic Studios.

Released on March 2nd (March 3rd in the US), the album will come in a standard format with 24 page booklet and in digipak format. The digipak includes an extended booklet and the album's companion film "Linear" by Anton Corbijn. A limited edition 64 page magazine will also be available, featuring the band in conversation with artist Catherine Owens, and new Anton Corbijn photographs. No Line On The Horizon will be released on 180gm vinyl. (More on the formats below)

The album cover artwork (click left to enlarge) is an image of the sea meeting the sky by Japanese artist and photographer Hiroshi Sugimoto.

Here's the full track listing:

1. No Line On The Horizon
2. Magnificent
3. Moment of Surrender
4. Unknown Caller
5. I'll Go Crazy If I Don't Go Crazy Tonight
6. Get On Your Boots
7. Stand Up Comedy
8. Fez – Being Born
9. White As Snow
10. Breathe
11. Cedars Of Lebanon

No Line On The Horizon will be available in five formats:

- Standard jewel case - with album CD and 24 page booklet

- Digipak format - limited edition with album CD, 32 page colour booklet and fold out poster. Features access to exclusive downloadable Anton Corbijn film.

- Magazine format – limited edition with album CD, with 64 page magazine. Features access to exclusive downloadable Anton Corbijn film.

- Box format - limited edition bespoke box containing digipak format album CD, DVD of Anton Corbijn's exclusive film, 64 page hardback book, plus a fold out poster.

- LP vinyl – limited edition with 2 black vinyl discs, gatefold sleeve, and a 16 page booklet.
:
'No Line on the Horizon'. (to be released: March 2 / 3, 2009)
Q has had a world exclusive preview of the forthcoming new U2 album, provisionally titled No Line On The Horizon.

Sessions for the long awaited album were completed at a feverish pace at Olympic Studios in West London throughout November. However, recording actually began in October 2006, with U2 teaming up once more with producers Brian Eno and Daniel Lanois after first exploring the idea of working with Rick Rubin. Between them, Lanois and Eno worked on the key triptych of U2 records - The Unforgettable Fire, The Joshua Tree and Achtung Baby.

"We learned a lot from Rick," says Bono. "He's head over heels in love with the concept of the song. But our feeling was, you don't go to rock'n'roll just for the songs. We wanted songs that would take us into a different world.

"And because Brian and Dan are experimental in their niches, the opportunity to bring some experimentation into the pop consciousness is so exciting to them. And to us."

By the time U2 arrived at Olympic Studios, Eno was shepherding the album to a conclusion with various other producers being called in to mix specific tracks - long-time cohort Steve Lillywhite and Black Eyed Peas man Will.I.Am among them. As has become customary for U2 records, tracks were being re-worked - and in some cases completely overhauled - right up to the final deadline.

Q initially heard previews of seven tracks at various stages of completion as the band were winding up. First impressions were that, while the two most recent U2 albums (2000's All That You Can't Leave Behind and 2004's How To Dismantle An Atomic Bomb) marked a return to basics, No Line On The Horizon is more in keeping with the spirit of 1991's Achtung Baby: which is to say, a bolder, more testing collection.

The material itself runs a gamut from the classic U2-isms of Magnificent, which echoes The Unforgettable Fire's opening track A Sort Of Homecoming in its atmospheric sweep, to the straight up pop of Crazy Tonight (the track Will.I.Am was taking a pass at) and the swaggering Stand Up, wherein U2 get in touch with their, hitherto unheard, funky selves - albeit propelled by some coruscating Edge guitar work, a signature feature of a number of the tracks. The latter track is also home to the knowing Bono lyric, "Stand up to rock stars/Napoleon is in high heels/Be careful of small men with big ideas."

Among other instantly striking tracks are Get Your Boots On, a heaving electro-rocker that may mark the destination point the band had been seeking on Pop; Winter, featuring a fine Bono lyric about a soldier in an unspecified war zone, surrounded by a deceptively simple rhythm track and an evocative string arrangement courtesy of Eno; and the stately Unknown Caller, which was recorded in Fez and opens with the sounds of birdsong taped by Eno during a Moroccan dawn.

At Olympic, particular excitement was reserved for two tracks: Moment Of Surrender and Breathe. A strident seven-minute epic recorded in a single take, the first of these sounds like a Great U2 Moment in the spirit of One, while Eno suggests the latter (at the time still a work in progress) is potentially both the best song the band had written and that he had worked on.

A week after the Olympic playback, Bono treated Q to a private audience of two further unfinished tracks - playing both on his car stereo at teeth-rattling volume whilst being piloted through London's rush-hour traffic. Two versions of the title track were extant: the first is another Unforgettable Fire-esque slow burner that builds to a euphoric coda, the second a punk-y Pixies/Buzzcocks homage that proceeds at a breathless pace.

"We recorded the second version just last night," explained the singer whilst enthusiastically air drumming along to it. "I'm very excited by that one,"

Q begged to differ, casting a vote for the more layered earlier version.

One other track, Every Breaking Wave, was beginning to take shape around an emotive Bono vocal and an appropriately grand swell of a climax. "We might be on to something special there," noted Bono.

And within the U2 camp, this is the general consensus around the album as a whole. A clearly excited Eno told Q No Line On The Horizon could be the band's greatest album, a view also echoed by the Edge.

"We've learnt a few things over the years," said the guitarist. "So I think (the album) could be a bringing-to-bear of all those eureka moments from the past."

No Line On The Horizon is set for release on March 2. And you can read more about the album in Q magazine's world exclusive U2 cover feature from December 31.