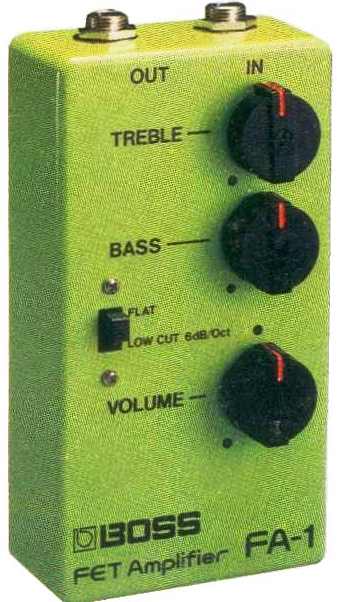 FA-1 Fet Amplifier
The FA-1 is an incredibly small Field Effect Tramsistor (FET) based pre-amp. The controls are real easy. There's controls for volume, bass, treble and a low cut filter switch. The amplification is as much as 20 times (26dB) and it has an input impedance higher than any other device.
Specifications
Power: 9V DC battery

Current Draw: 2.5mA

Low Cut filter: cut off: 200Hz, -6dB/Octave

Maxiumum Gain: 26dB

Input Impedance: 3.3MOhm

Output Impedance: oVer 600 Ohm

Dimensions: 2.6" x 4.7" x 1.7"

0.59lbs.